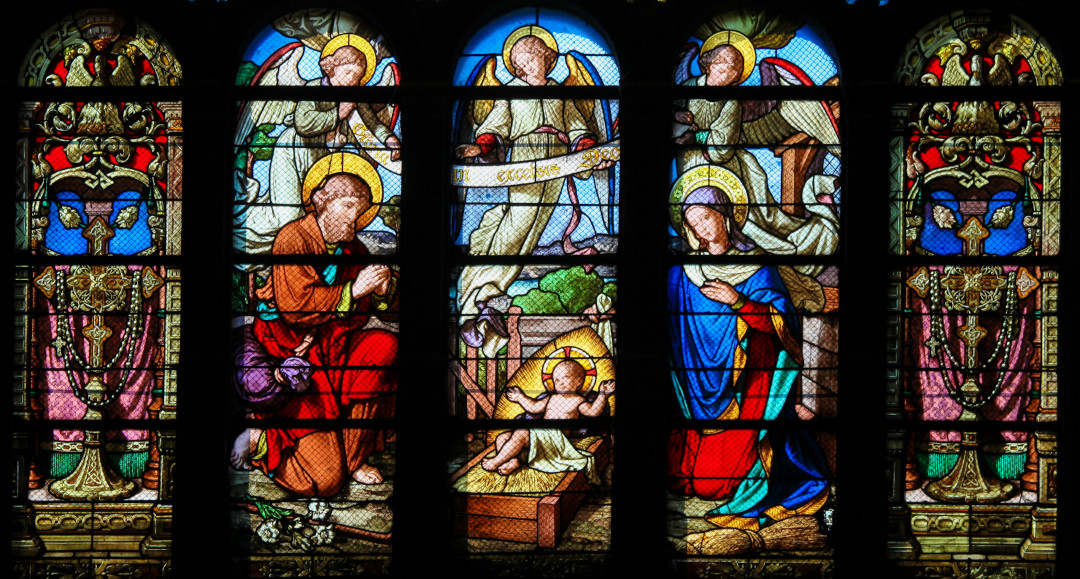 Stained glass in Sainte Eustache Church in Paris, France, depicting a nativity scene at Christmas (Sainte Eustache Church on Wikipedia)
"Mary, did you know
That your Baby Boy would one day walk on water?
Mary, did you know
That your Baby Boy would save our sons and daughters?
Did you know
That your Baby Boy has come to make you new?
This Child that you delivered will soon deliver you."
~ Mark Lowry
Dear Friends, Clients, and Subscribers:
As this remarkable year of 2019 draws to a close, the time has come to celebrate. The holidays have arrived. This is my favorite time of year – merriment, family, friends, and feasting are in order!
To help you celebrate, we hope you will enjoy The Best of The Solari Report . During the Christmas holidays, we choose and publish the best interviews of the year as well as the best News Trends & Stories analysis from the four quarterly Wrap Ups. Our Christmas music selections each Friday in December celebrate the festivities – with Christmas, of course, reserved for J.S. Bach!
Solari Report subscribers can take advantage of our annual tradition: Give the Gift . You are invited to give a complimentary three-month subscription to a person of your choice that includes The Solari Report through the 2019 Annual Wrap Up published in January, 2020.
Subscribers can also access our Holiday Wrap Up Gift Packages of printed Solari Report Quarterly and Annual Wrap Ups and, of course, purchase subscriptions at the Solari Store. Need help? Just email Customer Service or call Customer Service at 1-866-311-2543.
This Christmas, we pray for a healthy, happy home for every man, woman, and child. Having a positive vision for a free and inspired future for our young people is especially on my mind this year. For our 2019 Christmas donation, we have chosen to support one worthy young person in discovering his free and inspired life in 2020.
Mihaly (Misi) Istvan Karpati is the son of the wonderful Orsolya Győrffy, wife of our treasured ally Thomas Meyer. During my visits to Switzerland, Misi has led me on tours of local festivities and sights and educated me on numerous aspects of Waldorf education – he is just about to graduate from high school. Misi is a superb chef, including of Hungarian food, reflecting the country of his birth. Everyone is at the dinner table on the nights that Misi cooks and bakes. He is also an accomplished athlete, an artist, great at theater, lots of fun to have on a road trip, and adored by his younger brother.
Please click here to learn more about Misi and view his resume.
For several years I have heard how much Misi dreams of going to Australia – a place that I myself have come to love, thanks to Jason Bawden-Smith and our Australian subscribers. I believe Misi will fit right in "down under" and that our network in Australia can make a significant difference in helping Misi visit Australia and, in so doing, find his path in our world.
For our Christmas donation, Solari will fund a round-trip ticket for Misi to fly to Australia this coming summer. We would like to invite interested Australian subscribers to consider trading room and board for a gifted, hard-working young chef during June and July 2020. We are seeking local sponsors for a week or two each in Melbourne, Brisbane, Perth, or wherever you may be. I assure you, Misi is an energizing addition to any household and community.
If you have an offer of lodging, or questions, please contact:
Customer Service
Subject Line: Misi R&B
Phone: 731-403-6263
If you are looking for great groups to support, check out our donations in our previous holiday greetings as well as our Wrap Up Donations – 2019 for recommendations regarding the groups and people we support. We regularly post our donations in our News Trends & Stories each week. This year, several subscribers asked if we would send forward their donations. We are happy to do so – just send a check to Solari, P.O. Box 157, Hickory Valley, TN 38042 and we will add it to the funds we use for our ongoing donations.
This Christmas, consider the young people in your life. Surely there are wonderful young people like Misi in your family or your community. Think about what you can do to give them a boost or a leg up during this holiday season and in 2020. Helping them is an investment in our future. Perhaps you know a young person struggling with student loan debt, or someone who needs a recommendation for a job opportunity, or help learning how to grow their own food or make an audio. Perhaps you want to introduce them to the opera or symphony or take a trip to your favorite museum. Consider the possibilities that are energizing for you. We build the future one person at a time.
And this includes you. At Christmas time, we pray that we will do an excellent job throughout the New Year supporting you with actionable intelligence to live a free and inspired life. We are deeply grateful for your support and your presence in our lives.
On behalf of the entire team at The Solari Report, I wish you a Merry Christmas and a Prosperous and Happy New Year!
~ Catherine Austin Fitts
To download or order a complimentary copy, click here!