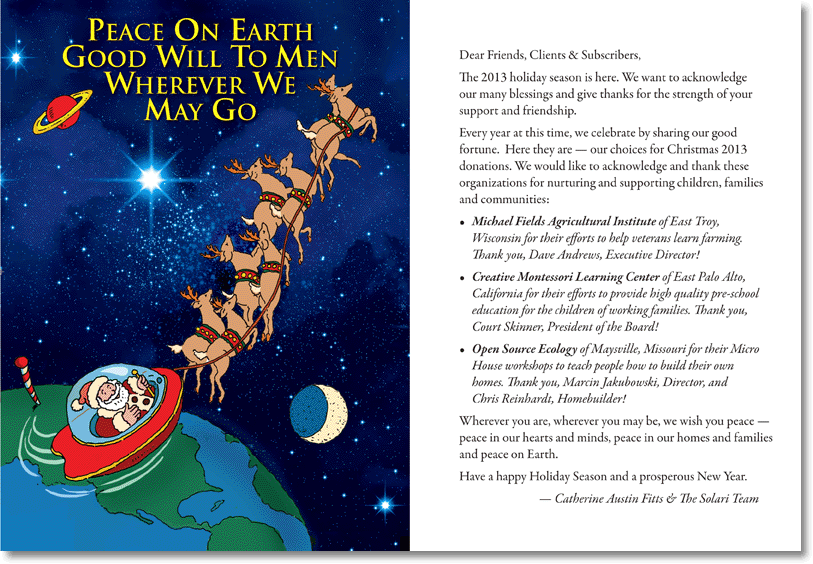 Dear Friends, Clients & Subscribers,
The 2013 holiday season is here. We want to acknowledge our many blessings and give thanks for the strength of your support and friendship.
Every year at this time, we celebrate by sharing our good fortune. Here they are — our choices for Christmas 2013 donations. We would like to acknowledge and thank these organizations for nurturing and supporting children, families and communities:
Open Source Ecology of Maysville, Missouri for their Micro House workshops to teach people how to build their own homes. Thank you, Marcin Jakubowski, Director, and Chris Reinhardt, Homebuilder!
Wherever you are, wherever you may be, we wish you peace — peace in our hearts and minds, peace in our homes and families and peace on Earth.
Have a happy Holiday Season and a prosperous New Year.
— Catherine Austin Fitts & The Solari Team
This year's Christmas card featuring "We're Going to the Stars" was created by Ben Lizardi of Lizardi Communications, Inc. Ben was inspired by our Solari Report this year about the Breakaway Civilization with Dr. Joseph Farrell. This refers to a select group who control advanced technology, such as free energy, anti-gravity, space travel and much more. This technology has been kept secret for decades. Our prediction for the new year is that as such knowledge is released it will help create exciting opportunities for a new generation of young people eager to travel to the stars.
Copyright © 2013 Solari, Inc. All Rights Reserved