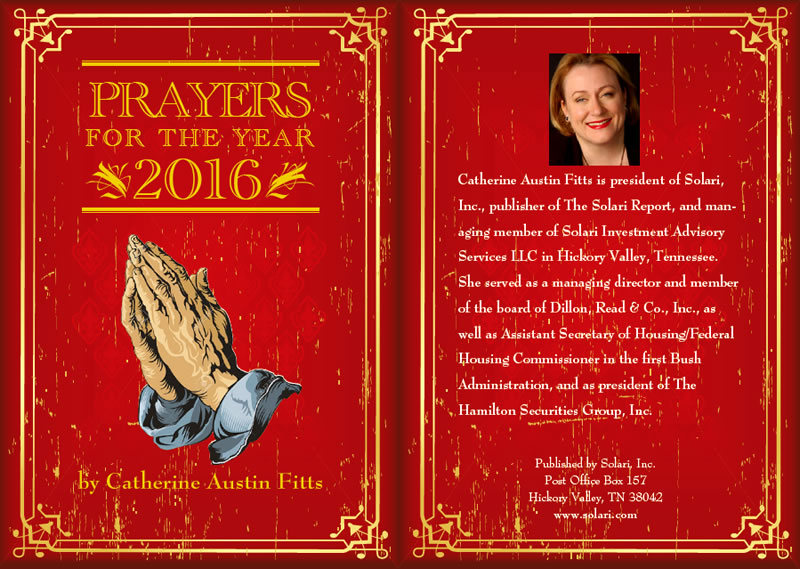 Dear Friends, Clients & Subscribers:
Each of us at Solari sees and hears the need for restoration and rejuvenation throughout our lives and work. We hear the effort to apply the Golden Rule in our lives, our work and our finances. We hear a call for a positive and productive way forward through the changes upon us. We are often asked, "What can I do?" One of the things each one of us can do is to pray. No matter how pressed our schedule is, there is always time for prayer.
For our Christmas card this year, here are some of my favorite scriptures and prayers in the form of (36) prayers and devotionals – one for each day of the month as well as Christmas, New Years Eve, New Years and your birthday.
View the 2015 Solari Christmas card as a PDF
View the Christmas card as a Flip-Book
(Flip-Book password: Prayers2016)
For our Christmas 2015 donations this year, we wanted to acknowledge the leaders who have inspired our prayers as well as those who protect our food and health freedom. If you're looking for great ideas, we highly recommend our choices for Christmas 2015 donations (see the right-hand column).
On behalf of the entire team at Solari, Merry Christmas and Happy New Year!
~ Catherine Austin Fitts
Every year at this time, we celebrate by sharing our good fortune. Here are our choices for Christmas 2015 donations:
For their prayer support:
For their support of our food and health freedom:
Copyright © 2013 Solari, Inc. All Rights Reserved